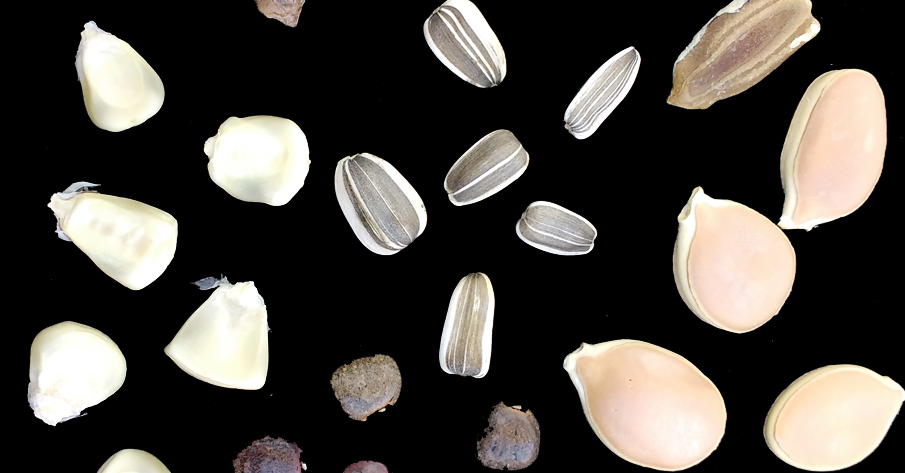 Article by Melissa Kruse-Peeples and Sheryl Joy. Published May 11, 2017
Each year Native Seeds/SEARCH grows numerous accessions from our Seed Bank Collection at our Conservation Farm in Patagonia, Arizona to obtain fresh seed. The number of accessions can vary from just a few dozen to over 300 depending upon the number of seeds to be planted, the pollination needs, the staff available, and needs of the Conservation program.  This year we are growing over 50 accessions. We have selected 5 of these accessions to highlight during our Adopt-A-Crop campaign. The campaign allows NS/S supporters to join us in the shared stewardship of these seeds. All supporters will receive a report of the grow-out at the end of the harvest and seed processing cycle.
Meet our 2017 crops!
Wild Scarlet Runner:

This wild bean has stunning red flowers as do many domesticated varieties of scarlet runner bean. However, the seeds are less than ¼ of the size. Crop Wild Relatives like these are important for crop development because they hold genetic traits that can strengthen domesticated varieties. NS/S conserves over 180 crop wild relatives in the Seed Bank Collection.
Tohono O'odham June Corn:
This vigorous maize is traditionally planted by the Tohono O'odham and floodwater farmed with the desert midsummer rains. The plants grow 8 feet tall and produce fat, 6 inch ears with dented kernels. This variety is related to popular June corn varieties of northern Mexico.
Drum Gourd:

Very large gourds are getting extremely hard to find for Yaqui/Yoeme deer singers who are teaching the younger generation the traditions for the deer dance. These 15-20 inch round gourds, the largest in our seed bank collection, will give the musicians' rasps and water drums the deep base sound needed for the ceremony.
Rio Lucio Pumpkin:
This variety is a hubbard squash originally from New Mexico. It is being grown to increase the number of viable seed samples in the seed bank to ensure long-term conservation. It is a varied accession with white, light orange, and beautiful bright orange and green patterned fruit.
Fort Apache Sunflower:
This impressive sunflower comes from the White Mountain Apache of the Fort Apache Reservation in east central Arizona. The huge main heads can reach 20 inches across, with smaller flowers branching off the stem as well. There is less than one and a half cups of this seed remaining in the seedbank.
Give Today!
Your support is critical for us to continue to provide access to these seeds and ensure their survival for generations to come. Our expenses for 2017 include extensive irrigation infrastructure repair as well as expenses related to personnel, pollination supplies, fuel for tractor, and water.

To donate, make your gift simply and securely by visiting our donation page or by calling 520-622-0830.   All supporters will receive a report of the grow-out at the end of the harvest and seed processing cycle. If you donate $100 or more, we will send you a packet of seeds from the harvest.