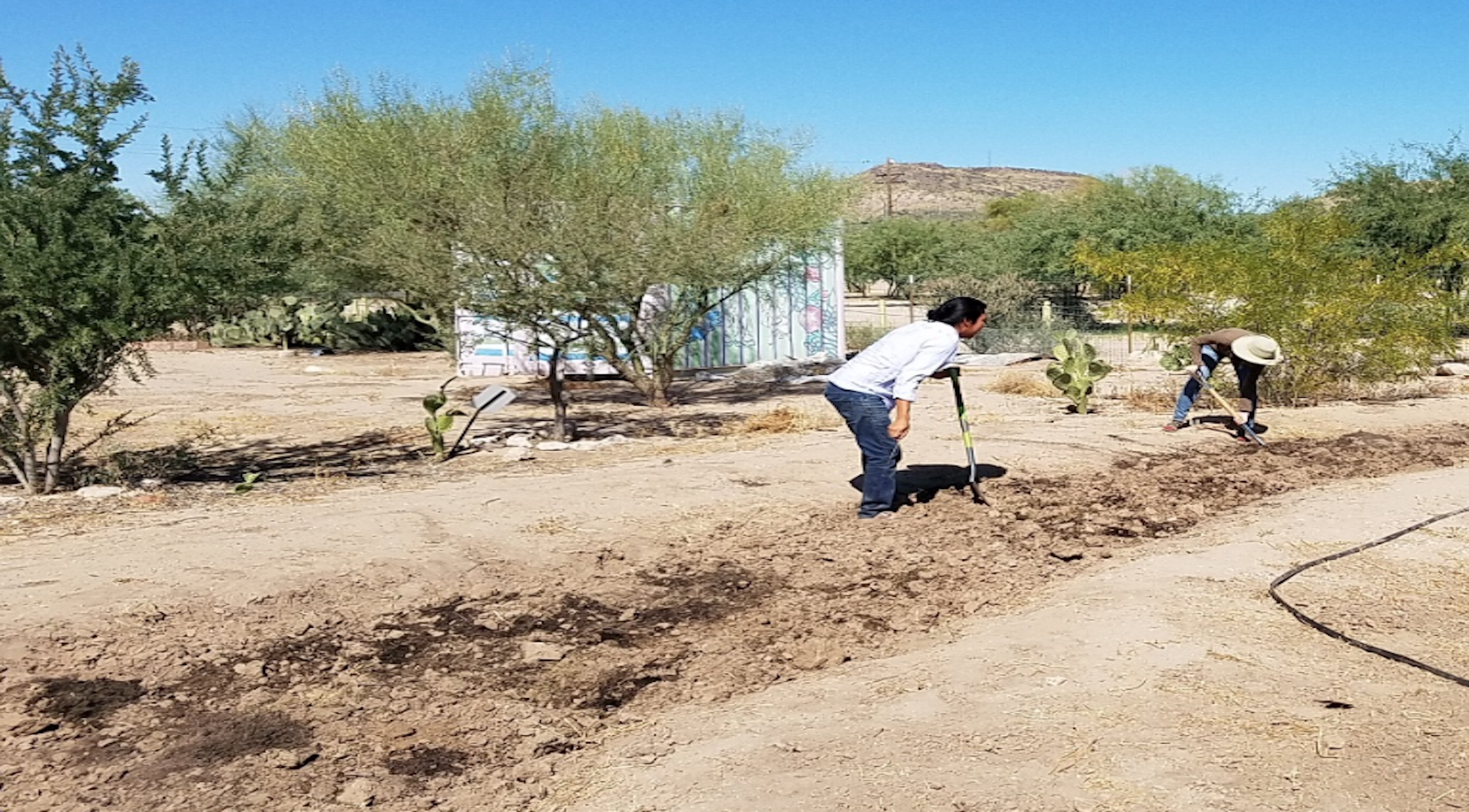 Community Partner Highlight: Las Milpitas Farm
By Nicholas Garber, Conservation Program Manager. Published November 2, 2017.
This cool season NS/S is partnering with the Las Milpitas de Cottonwood Community Farm in Tucson to growout accessions from our Seed Bank Collection.
The Las Milpitas de Cottonwood Community Farm is one of the many amazing resources from The Community Food Bank of Southern Arizona. According to their website, "Las Milpitas de Cottonwood is a six-acre community farm, located on the banks of the Santa Cruz River, that provides materials and support for local residents to grow food for themselves, making healthy, local food more accessible to low-income families. The farm offers family garden plots, gardening supplies, and educational workshops at no cost. Our farm is a unique community-building space where neighbors can gather, connect, learn, and share. The farm is also an educational site where we train and build leaders in desert food cultivation through workshops, work days, and partnerships with local schools. At Las Milpitas, we aim to bring residents from all areas of Tucson together to build community and create strong leaders who can create and advocate for a resilient, sustainable local food system."
The location of the garden in Tucson allows our staff more convenient access to monitor and maintain the crop grow outs than our Conservation Farm location in Patagonia, Arizona.
Las Milpitas generously gave NS/S the use of two in-ground garden beds. In the first, we planted Garbanzos del Norte, a chickpea variety from Vadito, NM. Garbanzos are a beautiful plant and a perfect first crop for a new gardening spot. Garbanzos' deep roots fix nitrogen in the soil, while leaves accumulate oxalic and malic acids making the plants a perfect mulch for our alkaline soils after harvest.
Garbanzos del Norte
In the second bed will grow Vadito Lentils in January, one of lentil varieties in our collection from Vadito, NM. Until then, we will grow several varieties of greens including Magdalena Acelgas, Tarahumara Mostaza, and Chamisal Quelites Verdes. These crops will give us a couple of harvests before the lentils go in and provide some delicious greens to bring to community night potlucks in the garden.
Please come by to check on our progress throughout the season or just to enjoy the beauty of Las Milpitas de Cottonwood Community Farm. They offer regular tours and education events.
Native Seeds/SEARCH thanks all the great folks at the Community Food Bank of Southern Arizona for their help in growing and conserving seed diversity from the arid Southwest!
NS/S Executive Director, Joy Hought, helping out at Las Milpitas Farm.